Women Wallets
Best Women Wallets at Best Prices
Find the perfect wallet for you with our selection of designer ladies wallets in Pakistan. We have the best quality women's wallets for the lowest prices. Shop our incredible selection of wallets online for women.
These wallets will inspire you to blossom and will complete your everyday look. Explore our range of leather clutches and coin purses.
Our ladies' wallets are made of synthetic leather and are designed for women in Pakistan; they are beautifully designed and a must-have accessory for your collection.
We sell only the highest quality women's wallets online. Buy online women wallets that are made with perfection.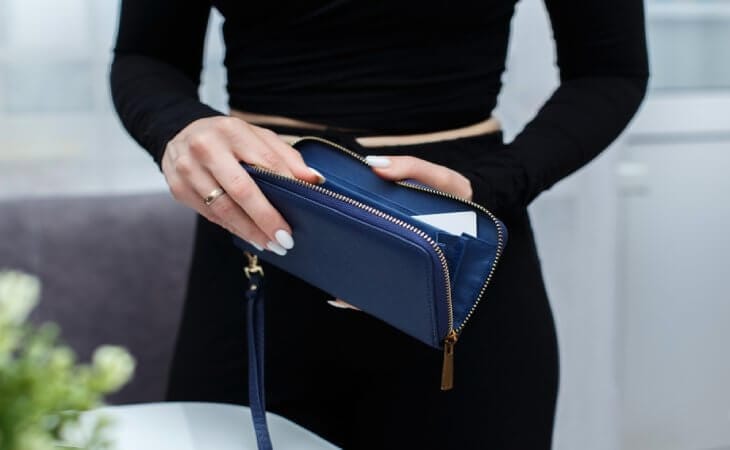 Show Filters
Shop for Trendy Women Wallets
The wallets combine high-quality materials, craftsmanship and design to create a pleasant appearance. The wallets we sell are ideal for female travelers who want to reduce their load and protect cash, ID cards, credit cards, licenses, etc.
Our wallets are made of premium top-grain leather, which is durable and has a luxurious feel—made from 100% genuine, high-quality leather with a heritage of craftsmanship.
These wallets can make an excellent gift for any occasion, including birthdays, weddings, Christmas, Valentine's Day, and other special occasions.
They are designed with an interior that protects cards, phones, and other essentials and is perfectly designed for evening activities.
Made from a soft-grained calf and can hold keys, cards, coins, and other small items.
Crafted to meet the needs of modern women and will protect all your valuables in one place. Perfect for busy women who are constantly multitasking.
Our wallets are great for everyday use. You can keep all your cards organized and safe—separate compartments for smaller and larger banknotes.
FAQ
How can I choose a ladies' wallet?
There are some things women need to consider when choosing wallets.
The material used
Clip for Add-On Money
Custom Wallets
Colour
Easy Access Wallet
The size of the wallet
Which wallet material is the best?
Although leather wallets are the most desirable, other high-quality materials can be used to create beautiful wallets. One of the most popular types of material you will find in a wallet is leather. It is a top choice because of its availability and outstanding characteristics.
What's the difference between a purse and a wallet?
A purse is a small pouch or bag we use to keep the money. A wallet is a flat case we can use to store cash, ID, cards and other essentials.
How long can a leather wallet last?
A leather wallet made from top-grain leather can be used for up to 10 years. It can last up to three years, even if it's made of lower-grade genuine leather. You can extend or decrease the life expectancy of your wallet by taking care of it.